!docype html>
San Fernando Valley Arts & Cultural Center
18312 Oxnard Street Tarzana, CA 91356
September 5 - September 29, 2018
Artist's Reception
September 7, 2018
5 p.m. - 7 p.m.
I am happy to inform everyone that two of my paintings have been accepted in the San Fernando Valley Arts & Cultural Center. The show begins September 5th and ends September 29th. For those of you who can, please come to the reception September 7th 5:00pm - 7:00pm. 18312 Oxnard Street, Tarzana, CA 91356.
The paintings are for sale.
Giovanna $375 Oil Pastel
Birdie $375 Brush and Ink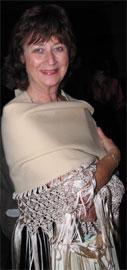 Karen Alpert Entous has been painting watercolors and creating greeting cards from her paintings since her visit to China in 1989. Here you'll find a variety of her artwork as well as recent photos she's selling as photo greeting cards and matted prints. Please feel free to browse the website and don't hesitate to entous [at] pacbell [.] net if you have any comments or questions.
"It is my role as an artist to lead the viewer into the painting and evoke the visual senses and memories. What I see is real, but what I paint or do with the information evolves into another image, a kind of personal reality. The work takes on a life of it's own of playfulness and serenity. I am responding to color and the watercolor media lends itself to exploration. I have a sense of location, a point of view. Then I incorporate the use of geometric construction."
Graduate of the University of Wisconsin-Madison, artist Karen Alpert Entous has been involved in arts and crafts since childhood. She is a long time resident of Southern California and currently has her own card company under the name kae
Alberto Giacometti
Alberto Giacometti (Italian pronunciation: [alˈbɛrto dʒakoˈmetti]; 10 October 1901 – 11 January 1966) was a Swiss sculptor, painter, draughtsman and printmaker. He was born in the canton Graubünden's southerly alpine valley Val Bregaglia, as the eldest of four children to Giovanni Giacometti, a well-known post-Impressionist painter and Annetta Giacometti-Stampa. Coming from an artistic background, he was interested in art from an early age.
While in figure drawing class, doing several gesture drawings for weeks, one of my fellow students told me that my work looked like Alberto G. This is a good example how creativity works. I was not familiar with his work and certainly didn't have his images in mind while doing the assignment. I was focused on capturing the weight and movement of the figure in one minute! Even though the end results looked similar to the artist, I was discovering it for the first time. I have always believed that some things in human beings are programmed similarly and yes, it is up to us to discover it.